Frances Verter, PhD, & Alexey Bersenev, MD PhD
In February 2022, Nature published a paper announcing that the first two patients treated at U. Pennsylvania with chimeric antigen receptor T-cell (CAR-T) immunotherapy developed from their own T-cells still showed the persistence and activity of the modified cells a decade later1. Both patients remained in durable remission from chronic lymphocytic leukemia (CLL) since their treatment in 2010 until the follow-up study in 2020. Unfortunately, one of the patients died from COVID-19 in 20212. This ground-breaking CAR-T therapy received FDA approval in 2017 as Kymriah from Novartis3.
At CellTrials.org we have tracked the enormous worldwide growth of CAR-immunotherapy clinical trials. We have a cumulative total of 1460 trials from 2001 through 2021. Our database covers all national trial registries and includes all cell types modified by CAR technology, not just CAR-T. For example, during the year 2021, out of 262 CAR-immunotherapy trials, 9% used cell types other than basic T-cells, and 31% of the trials were not registered on ClinicalTrials.gov.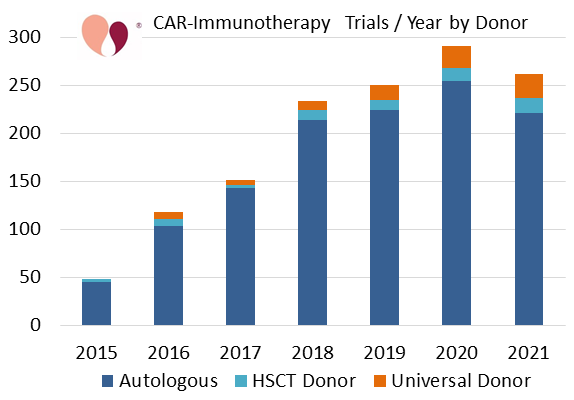 In recent years there have been growing efforts to develop allogeneic CAR-immunotherapy. These efforts seek to overcome limitations that arise when manufacturing an immunotherapy from the autologous cells of a patient that is undergoing chemotherapy to fight an evolving malignancy4. We have been tracking allogeneic CAR-immunotherapies, both from matched or partially matched donors of hematopoietic stem cell transplants (HSCT), as well as off-the-shelf products from universal donors. The following two graphs show allogeneic CAR-immunotherapy for the seven years from 2015 to 2021, either as a fraction of all CAR-immunotherapy or alone.
Those who follow the cell therapy industry have asked, how many allogeneic CAR therapies will go into clinical studies over the next few years5? To predict the next few years of clinical trial registrations based on past growth, it is important to work from a trials database like ours that completely covers the entire world. The world's largest producer of CAR-immunotherapy studies is China, and the second largest is the United States. Effective since the end of 2017, the Chinese federal authorities revised their regulatory system for cell therapy products6. The upshot is, now that registering a clinical trial on the Chinese registry is similar to the rigorous process in Western countries, roughly half of the cell therapy trials in China are only posted on their national registry, ChiCTR, and are not cross-posted to ClinicalTrials.gov7. Therefore, any studies that attempt to review or predict world trends in immunotherapy based only on trials in ClinicalTrials.gov are suffering from a crippling lack of complete data.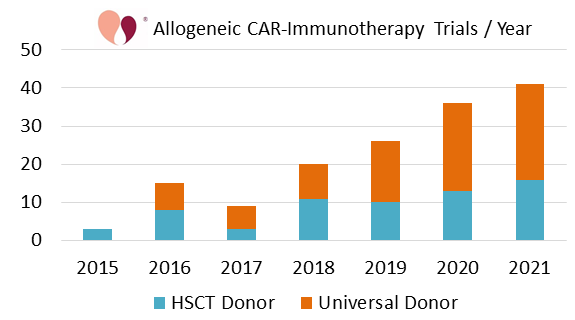 According to CellTrials.org, there have been 20 or more allogeneic CAR-immunotherapy trials every year since 2018. Trials in this category increased by 30% or more from 2018 to 2019 and again to 2020, but by 14% from 2020 to 2021. It is important to be cautious and not over-interpret the big jumps prior to 2021, because we have seen a "pandemic bump" in numbers of advanced cell therapy trials in general that has worn off8,9. There are also the economic realities that funding for the biotech sector in general is down, and that allogeneic immunotherapies carry more risk than autologous therapies10,11. Therefore, we made a conservative forecast for the next few years by fitting a linear regression to the years 2018 to 2021. Based on this best fit, we forecast that there will be more than 200 additional allogeneic CAR-immunotherapy trials over the four years 2022 through 2025.
References
These comments are submitted by website readers and are not endorsed by CellTrials.org, which is a project of Parent's Guide to Cord Blood Foundation. We screen the comments to keep out SPAM but we cannot review each one for accuracy.