Frances Verter PhD, Pedro Silva Couto MSc, Alexey Bersenev MD PhD
CellTrials.org has released our package of worldwide clinical trials in advanced cell therapy for the year 2021. We previously blogged that cell-based therapy surged in 2020, due to a doubling in the number of MSC trials (from 156 to 300), with the majority of them designed to treat COVID-19. That pandemic bump is over. The total number of advanced cell therapy trials registered during 2021 was 773, down noticeably from 960 in 2020, and very close to the totals from 2019 and 2018, as seen in the timelines displayed.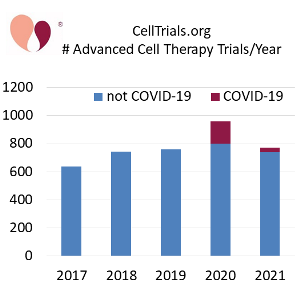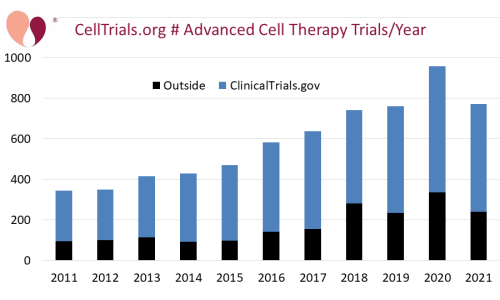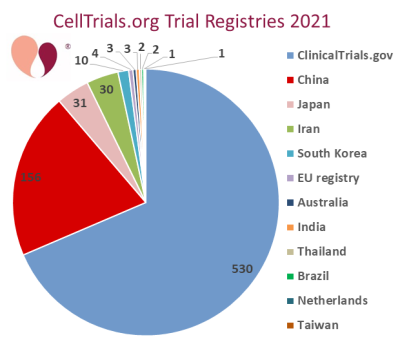 Our clinical trials data is unique among compilations because we search over a dozen international trial registries and at least two scientists look at every included trial. This gives us the most accurate and complete trials data in the world. When a trial is simultaneously posted to ClinicalTrials.gov and another registry, we attribute it to Clinical Trials.gov. However, when trials appear in their national registry first and then show up in ClinicalTrials.gov over a month later, we leave them attributed to the national registry because we have already included them in our data release for the month in which they first appeared. According to our system, the fraction of trials not in ClinicalTrials.gov was 31% in 2021, which is consistent with the 34% average from the previous three years.
We are releasing our 2021 data only now, because compiling international data on clinical trials has been very challenging during the winter from 2021 into 2022. First, the website of the WHO trials registry is often down. Second, the Chinese trial registry ChiCTR has been set to block visitors after a few views, which makes it extremely difficult to collect a month's worth of trials.
As a public service, we have been giving away a clinical trials database of advanced cell therapy for COVID-19. The cumulative number of trials treating COVID-19 with cell therapy over the two years from January 2020 through December 2021 is 195. To the best of our knowledge, we are the only resource that has tracked COVID-19 cell therapy across all registries and throughout the entire duration of the pandemic. We have been too busy compiling data to publish yet, but we did present a conference poster about 18 months of COVID-19 cell therapy, and Dr. Verter will give a talk on this topic at the Terrapinn Advanced Therapies Congress.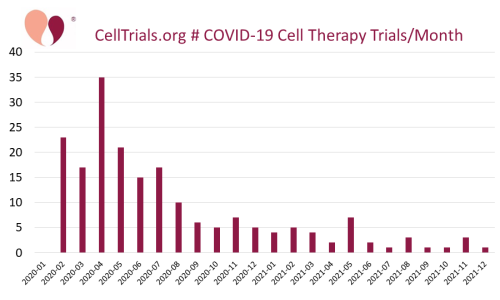 We will be blogging more about specific types of cell therapy clinical trials in the months to come. For now, we display the breakdown of the cell types used by 2021 immunotherapy trials. The field of immunotherapy has exploded since the development of CAR-T therapy, and CAR-T clinical trials continue to be dominant. For immunotherapy clinical trials in 2019, we blogged that CAR-T accounted for 54% of trials, while all forms of T-cell trials accounted for 70% of immunotherapy trials.
Two years and a pandemic later, the popularity of T-cells is virtually unchanged. In 2021, CellTrials.org counted 432 immunotherapy trials, and among them CAR-T accounted for 55%, while all forms of T-cell trials accounted for 70% of immunotherapy trials. The second most popular cell type for immunotherapy is various forms of Natural Killer (NK) cells, including expanded NK cells, CAR-NK cells, and activated or induced NK cells. An important distinction between these two therapy modalities is that the majority of CAR-T therapies are autologous, whereas the majority of NK therapies are allogeneic.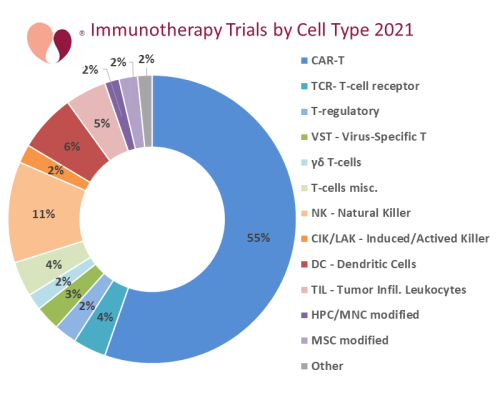 These comments are submitted by website readers and are not endorsed by CellTrials.org, which is a project of Parent's Guide to Cord Blood Foundation. We screen the comments to keep out SPAM but we cannot review each one for accuracy.