CellTrials.org COVID-19 Clinical Trials
CELL THERAPY ONLY: ALL COVID-19 CLINICAL TRIALS AS OF 2021-09-30.
Through the end of 2020, 161 trials were registered worldwide to prevent or treat COVID-19 or related conditions with cell therapy. An additional 29 trials were registered during Jan-Sept 2021. For each trial, the excel file holds:
Month (there were no cell therapy trials registered in January 2020)
Year
Trial ID with link to trial on-line
Country where registered
Trial Phase
Cell Types that are active ingredients
Patient Indication
Expected Enrollment of the trial
Sponsor names
Notes on trial name or product name (optional)
Inclusions/Exclusions: We are only tracking cell therapy clinical trials for COVID-19. (Previous versions of this database tracked all trials of COVID-19 treatments.) This database only holds officially registered clinical trials.
>> Watch the News blog of this website or follow @celltrialsdata for discussions and graphs of these trials.
>> Citations: If you use this data in a publication or presentation, please acknowledge the Team at CellTrials.org This data was compiled by Pedro Silva Couto, and the graphs were made by Frances Verter.
>> Read our publication (open access) at Stem Cells Translational Medicine giving an overview of the first 18 months of trials from Jan. 2020 to June 2021.
>> Want more insights? CellTrials.org offers monthly or quarterly subscriptions to all advanced cell therapy clinical trials that provides twice as much data per trial, for all international trials for any indication.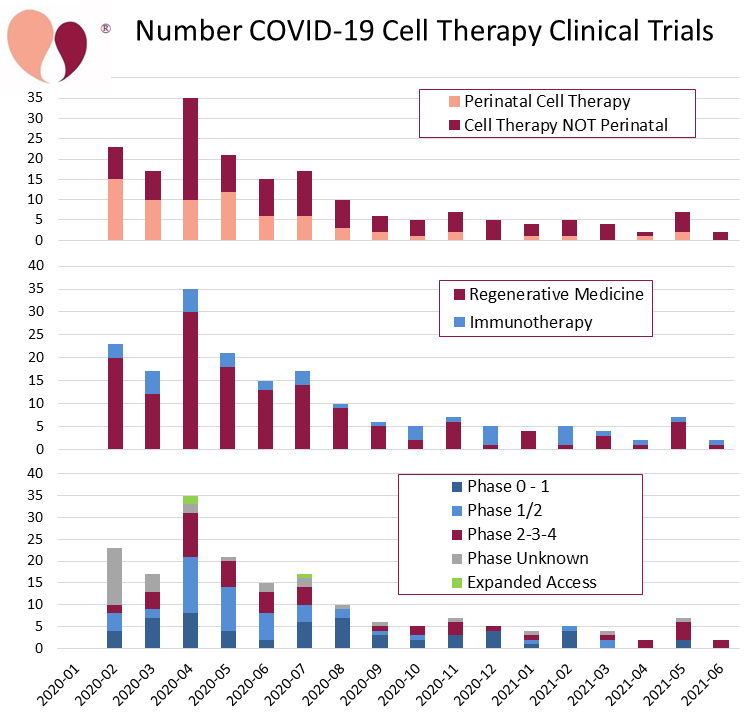 Public samples: