CAR-Immunotherapy TRIALS
CAR-Immunotherapy package has 22 parameters for all trials registered internationally from 2001 through 2020, including their current (end of 2020) status. Cumulatively, 1198 CAR-Immunotherapy trials have been registered worldwide (see histogram below). The fraction of new CAR-Immunotherapy trials that were not registered in ClinicalTrials.gov was 33% in 2019 and 29% in 2020.
Trial Data

Registration Year
Trial ID with link to trial on-line
Country
Phase
Status (updated as of 1 March 2021)

Indication
Patient Age Groups
Target Enrollment

Cell Data

CAR Target
Cell Type
Cell Source
Donor Type
CAR Construct (costimulatory domain, vector, etc)
Cell Dose(s)
Mode of Administration (route and # doses)
Conditioning
Drug Support/Combos

Sponsor Data

Academia or Industry Funding
Sponsor Name
Study Acronym

Additional Information

Product Name
Notes - includes secondary trial IDs and reasons for termination
Below is a histogram of CAR-Immunotherapy trial numbers versus time, color-coded by trial phase. This illustrates the explosion of CAR-Immunotherapy trials since 2014 and the appearance of follow-up studies since 2015.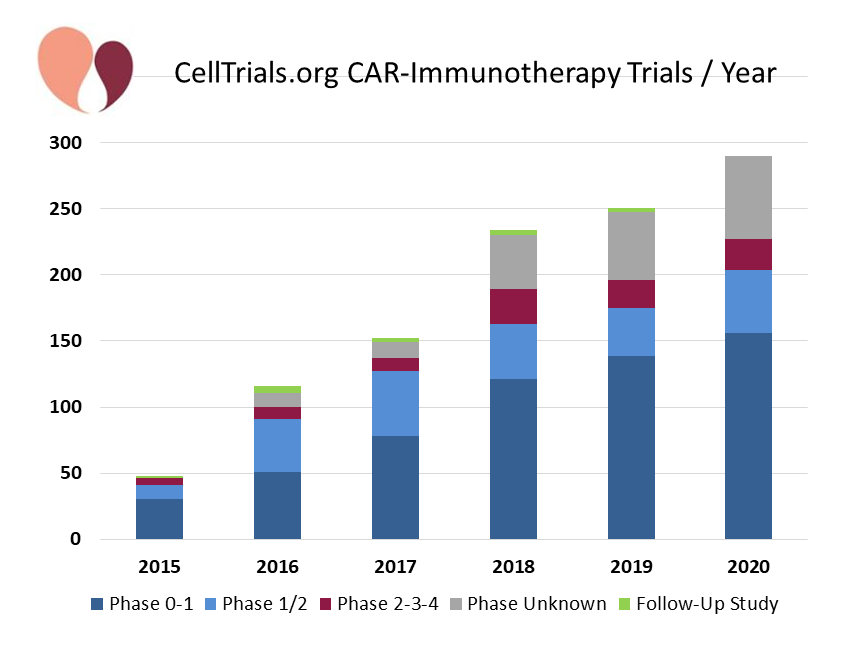 Public samples: