CAR-Immunotherapy TRIALS
CAR-Immunotherapy package has 22 parameters for all trials registered internationally through 31 Dec. 2018, including updates on their status. Cumulatively, 656 CAR-Immunotherapy trials have been registered worldwide, including 118 in 2016, 152 in 2017, and 234 in 2018. Purchasers will receive FREE UPDATES of new CAR-Immunotherapy trials twice a year for the next two years after purchase date.
Trial Data

Registration Year
Trial ID with link to trial on-line
Country
Phase
Status (updated as of end of Dec 2018)

Patient Data

Indication
Patient Age Groups
Target Enrollment

Cell Data

CAR Target
Cell Type
Cell Source
Donor Type
CAR Construct (costimulatory domain, vector, etc)
Cell Dose(s)
Mode of Administration (route and # doses)
Conditioning
Drug Support/Combos

Sponsor Data

Academia or Industry Funding
Sponsor Name
Study Acronym

Additional Information

Product Name
Notes - includes secondary trial IDs and reasons for termination
A graph of CAR-Immunotherapy trial numbers and phase versus time shows the explosion of CAR-Immunotherapy trials since 2014 and the appearance of follow-up studies since 2015. During the first half of 2018, 41% of new CAR-Immunotherapy trials registered worldwide were not registered in ClinicalTrials.gov. Comparing the entire years from 2017 to 2018, the total number of trials increased from 152 to 234, and the number of phase 2-3-4 trials went from 10 to 24.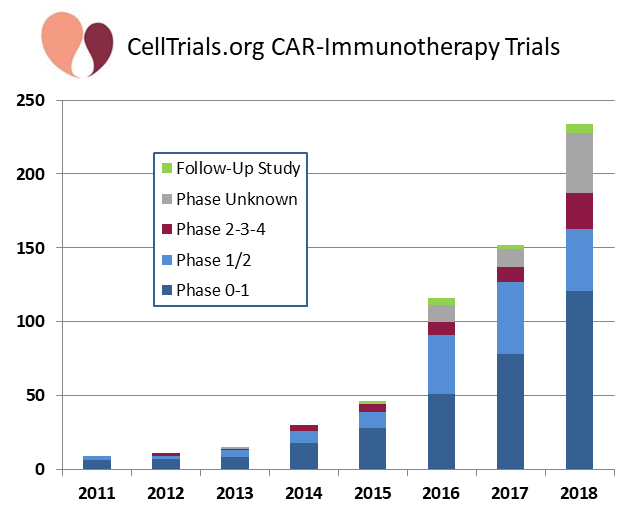 Public samples: