CellTrials.org has recently completed our trials compilation for the first quarter of 2018 (Jan-Feb-Mar) and we compare this time period to the first quarter of 2017:
 
Overall number of trials increased 35% from 2017Q1 to 2018Q1.
Current trials breakdown 53% Immunotherapy / 47% Regenerative Medicine.
Growth of trials registered on ClinicalTrials.gov is less than 10%.
Growth of trials only registered outside ClinicalTrials.gov is more than double.
Outside trials include registries in China, Japan, India, Iran and Australia.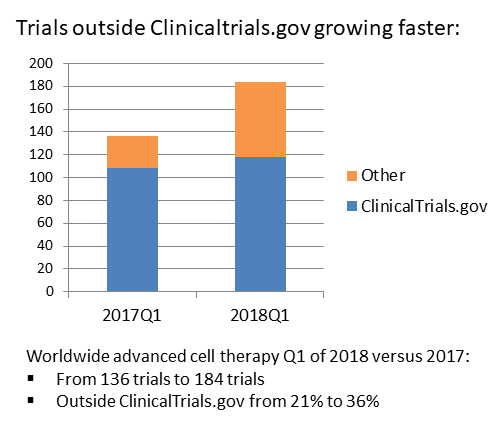 These comments are submitted by website readers and are not endorsed by CellTrials.org, which is a project of Parent's Guide to Cord Blood Foundation. We screen the comments to keep out SPAM but we cannot review each one for accuracy.