You are here
Cell Therapy Trials Growth from 2016 to mid-2017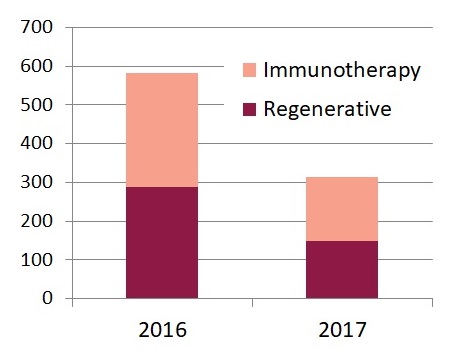 Now that the mid-point of 2017 has passed, we can give a brief update on the growth rate of advanced cell therapy from 2016 to 2017. The number of trials registered worldwide was 582 for all of 2016 and 315 for the first half of 2017, a modest 8% increase in the average number of trials per month.
Advanced Cell Therapy is defined as all therapies in which cells are more than minimally manipulated, and/or their action is not homologous. Right now almost all the 2017 trials can be categorized as either Immunotherapy or Regenerative Medicine. The immunotherapy trials were 51% of the total in 2016 and so far comprise 53% of the trials in 2017.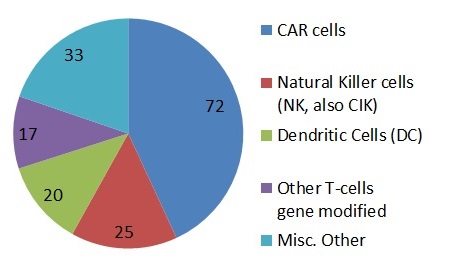 Immunotherapy trials that employ Chimeric Antigen Receptors (CAR) are very popular right now and 72 of the new 2017 trials fall into this specific category. The other most common forms of immunotherapy so far, in decreasing order, are therapies that employ Natural Killer Cells, Dendritic Cells, and genetically modified T-Cells other than CAR.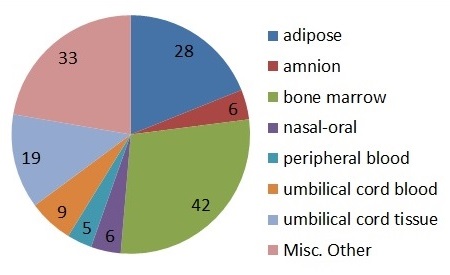 The new 2017 trials in regenerative medicine drew cells from a variety of sources, but as in past years the most popular sources were bone marrow and adipose tissue. The dominant cell type in the regenerative medicine trials was mesenchymal stem/stromal cells (MSC) from a variety of sources, counting for 48% of the regenerative medicine trials.
Subscribers to CellTrials.org can receive a spreadsheet compiling all new trials in advanced cell therapy either monthly, quarterly, or bi-annually. CellTrial.org also has data products that track parameters of CAR-T trials with three years of free updates, and/or outcomes of CAR-T trials with three years of free updates.